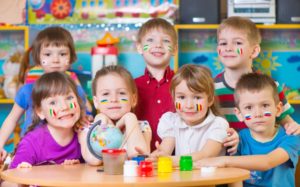 Enjoy your summer Montessori-style with Apple Montessori Schools' Summer Session. Research has shown that the "summer slump" is a real thing when it comes to a child's learning and development. But Apple Montessori can help your child overcome summer learning loss with its summer session that combines exciting lessons into exploration and activities.
With 45 years of early childhood education experience, Apple Montessori has a reputation for providing children with a strong foundation for success in school and life. That mission doesn't stop in the summer.
During Apple's Summer Session, children build upon that foundation with Super Kids, FasTracKids, and other summer activities that kids love.
The Summer Session is designed for children ages 2-12 and implements Apple Montessori's proven curriculum, as well as the FasTracKids e-learning program. All Apple Montessori Schools are safety certified and are run year-round by experienced teachers and support staff.
Enrichment programs and activities such as athletics, arts and crafts, cooking, music, science, and nature explorations are also a part of Apple's Summer Session. The children also get to experience field trips like mini golf, bounce house and the zoo.
Themed weeks based on children's favorite things and in-house events like Preschool of Rock and Carnival Day also help keep the summer fun and educational for your child.
Beyond all of these great benefits, Apple Montessori's Summer Session also provides children with the independence, confidence, and mindfulness that are fostered daily in a Montessori environment. Apple's whole-child learning approach is implemented in all of the Summer Session's programs and is intended to nurture each child's unique strengths academically, socially and emotionally.
Apple Montessori Schools Summer Session is offered in Cliffside Park, Edison, Hoboken, and Metuchen. Apple's summer camp with swimming is offered at the Edgewater, Kinnelon, Mahwah, Morris Plains, Oakland, Towaco, Randolph, and Wayne locations.